Young families (with children up to about 10) will have the time of their lives. Despite having only a limited recreation program, the kids and their new-found friends will enjoy themselves to the max in the heated outdoor pool, in the ball pit, in the indoor playground, or on the large air-trampoline.
Hours of safe playing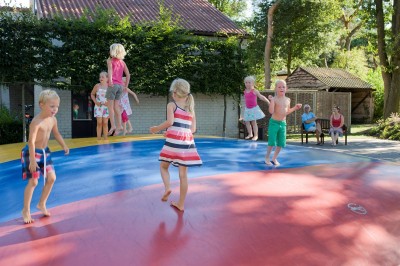 While you are relaxing in front of your tent, the kids will play safely at the campsite. Or they can play under your watchful eye in the sandpit at your campsite field or at one of the play areas that are scattered around the campsite. You don't need to fret about your children (who cannot swim) sneaking into the pool area. The outdoor pool is secured by fences and you and the children can only enter via the secured gates when you want to splash around in one of the paddling pools or swim in the large pool.
Choose between the various types of camping pitches or rental accommodations.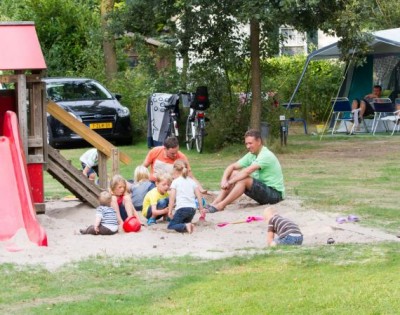 Holiday center De Ullingse Bergen offers various types of camping pitches. In addition to our basic or comfort sites, pitches of 100 or 150 m2, you can also opt for a spot on a quiet lane or on a sociable camping field with views of a sandpit with playground equipment.
The sites 'Grasveld 49 - 63', 'Maisveld 113 - 120', and 'Maisveld 129 - 141' are particular favorites with families with young kids and are always the first places to be booked during the school holidays.
In addition to our camping pitches, we also offer various rental accommodation, such as the cozy 5-person Wood Cabins (situated directly at a playground and sanitary block), a unique 4-person Lodge (with box bed and covered terrace, situated near a playground), the luxury 6-person (Wood) Chalets, the new 5-person Veranda Chalet, or the 6-person Luxury Chalet with covered terrace. All rental accommodation has a central location. The covered terraces of the Wood Cabins, the Lodge, the Veranda Chalet and the other chalet with covered terrace ensure that you can enjoy your holiday inside and outside! Come rain or shine!
Do you want to book for a period longer than 3 weeks? Contact in that case the camping itself directly by phone or email.